"The karyotyping is a process of preparing, arranging, categorizing chromosomes using cell culture technique." 
The karyotyping method is entirely different from PCR or DNA sequencing. Here instead of DNA or gene sequence, we are studying the entire chromosome. Using a cell culture method a standard karyotype or karyogram of a person or any organism can be prepared.
The present method is one of the most traditional methods scientists are using for a long. However, major advancements were done during the mid 19's. If you want to read more on the history of karyotyping read this article:
To understand the present topic so precisely we have to first understand the chromosomes. A complex network of DNA and protein form chromosomes that are present in a pair. DNA (made up of phosphate, nitrogenous bases, and sugar) interacts with various histone proteins and forms nucleosomes, solenoid and bead-on a-string like structure to arrange on the chromosome.
Every pair of chromosomes are different in terms of size, shape, and genetic material. Some chromosomes are larger and have a huge amount of genes or genetic material while some are gene fewer chromosomes.
Based on the amount of genetic material or number of genes the size of each chromosome differs, for instance, chromosome 1 is the largest and contains more genes than any other chromosomes.
Several intrinsic and extrinsic factors change the composition or structure of a chromosome those are either replication errors, nondisjunction, or UV rays. Using conventional cytogenetic techniques like karyotyping we can study chromosomes of any organism. Furthermore, any related alterations can also be encountered using it.
Talk of the topics: In the present article we will discuss the evolution of chromosome technique and its history. We will also try to define it. Various steps and the entire process of cell culture are also included in the present article. In the last segment, we will talk about staining and banding techniques and the advantages and disadvantages of the present method.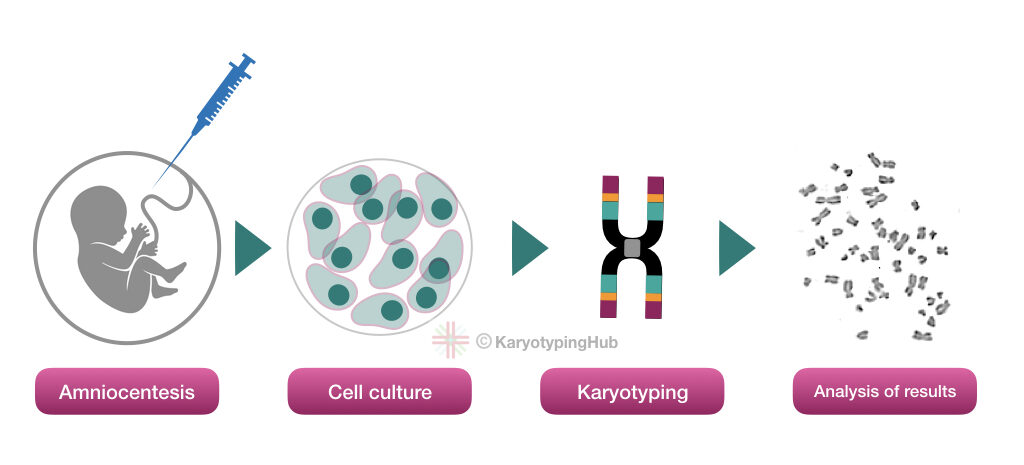 What is karyotyping?
The word "karyotype" is an ancient Greek word. The word is derived originally from the "Karyon" which means nucleus or seed. It is no way associated with either DNA or genetics, right!
The reason for choosing the word "karyon" is that chromosomes were first observed in the plant nucleus. 
The word chromosome was also derived from the Greek word "chromos" means "color" and "soma" means "body". 
The aim of doing karyotyping is to observe chromosomes. Growing & harvesting cells, hypotonic treatment, slide preparation, and microscopy are steps of karyotyping.
History:
A Swiss botanist, Carl Wilhelm von Nageli was the first person who observed chromosomes in 1842. What he observed was a thread-like structure and he named it as transitory cytoplasts.
In 1888, Waldeyer named the transitory cytoplasts as "chromosomes", this is where cytogenetic studies had started. The first banding technique was introduced by Caspersson and co-workers in 1970. But before that in 1956, Tijo and Levan first counted 46 numbers of human chromosomes.
After that different banding and cytogenetic techniques were evolved.
Definition:
Karyotyping is a cytogenetic technique using which a karyogram or chromosomes are arranged in order to encounter various chromosomal abnormalities. 
Read more on chromosomal anomalies:
Principle of Karyotyping:
The karyotyping is a combination of various other technique in which the cell culture technique is so crucial to use correctly.
Culture media helps cells to grow faster, in vitro. Adding mitotic agents (like PHA-P) induce cell division. The cells are arrested on the metaphase by adding the colchicine which is harvested and treated with the hypotonic solution to spread well. 
Steps:
Collecting sample
Cell culture
Preparing metaphase chromosomes
Hypotonic treatment
Chromosome harvesting
Slide preparation
Staining & banding
Microscopy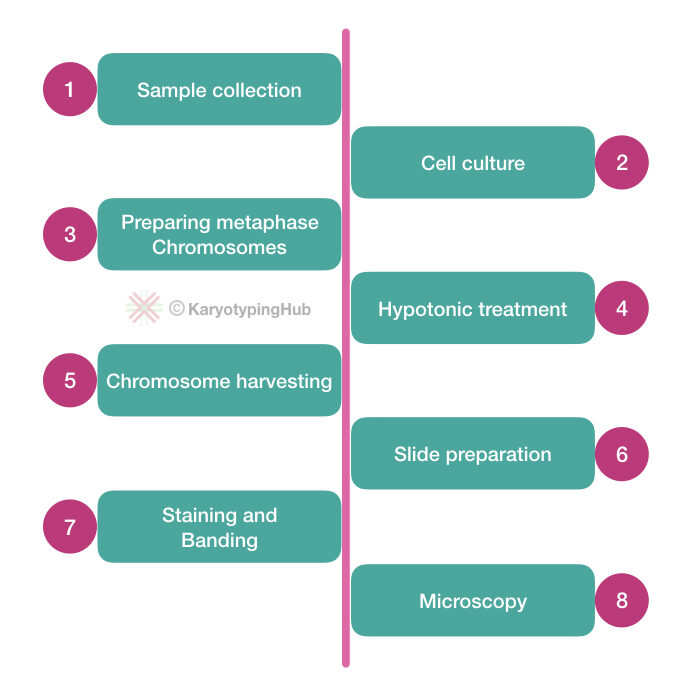 Procedure:
Sample collection:
Any bodily fluid having dividing cells can be cultured, however, blood, amniotic fluid, solid tissue, tumor, chorionic villi are common samples used in karyotyping.
The sample is collected in a sterile tube, heparin tube, or AF collecting tube. The sample is immediately sent to the karyotyping center. Transport the sample under 4°C temperature. It is essential to maintain an aseptic conditions. 
Notably, sample collection also as crucial as any other technique in karyotyping. The blood sample is collected in the heparin tube. EDTA prevent cell division and therefore not used.
Cell culture: 
The sample is culture using the culture media, usually ready to use media like the complete RPMI-1640 are used, but we can also prepare our own culturing media by mixing various chemicals.
Note: I personally recommend not to prepare the media due to the high chance of contamination.
The final culture media must contain antibiotics, L-glutamine, or phytohemagglutinin M. Both are essential amino acids and must be needed in cell culture.
Various ingredients of cell culture media are enlisted in the table below,
| | |
| --- | --- |
| Chemical | Function |
| RPMI-1640 | Cell culture growth media |
| L-glutamine | Essential amino acid |
| Antibiotics | Prevent bacterial contamination |
| Colchicine | Prevent spindle fiber formation |
| EtBr | Release condensation of chromosomes |
| Methanol | Used as a fixative in harvesting |
| Glacial acetic acid | Used as a fixative in harvesting |
| PHA-P | Mitotic stimulator- promote cell division |
| Hypotonic solution | Cell swelling |
| Giemsa | Staining and banding |
In 0.5 to 1ml samples add approximately, 8 to 10 ml culture media. And set in an incubator for the next two days.
Preparing the metaphase chromosome:
In metaphase, chromosomes are arranged well. Thus we need that one for karyotyping. To fulfill the present aim we need to arrest all our cells at the metaphase stage of cell division.
Adding colchicine into the culture prevents the spindle formation and therefore arrests cells at metaphase.
Hypotonic treatment:
In order to isolate chromosomes, we need to swell cells to observe chromosomes. Usually, the KCl is used as a hypotonic solution.
A special type of solution known as a hypotonic solution is used to isolate chromosomes from the cells. The reason for doing this is to separate chromosomes well on a slide.
Chromosomes harvesting:
Now we need to harvest cells to remove the debris. Using the treatment of methanol and glacial acetic acid with the process of centrifugation, cells are harvested.
Slide preparation:
Unlike other slide preparation methods, the slide preparation technique in karyotyping is a bit different.
Here to separate every chromosome properly we need to drop the cell suspension from some height. For that pre-chilled, methanol treated slide is used so that once the cell suspension hits the slide, it is immediately fixed on the surface.
Staining & banding:
Now our slide is ready but to know whether the cells are cultured properly or not, we have to first stain it with some color.
G-staining or Giemsa staining is used to ensure cell culture. Chromosomes are stained blue in Giemsa and looking like this, see the figure: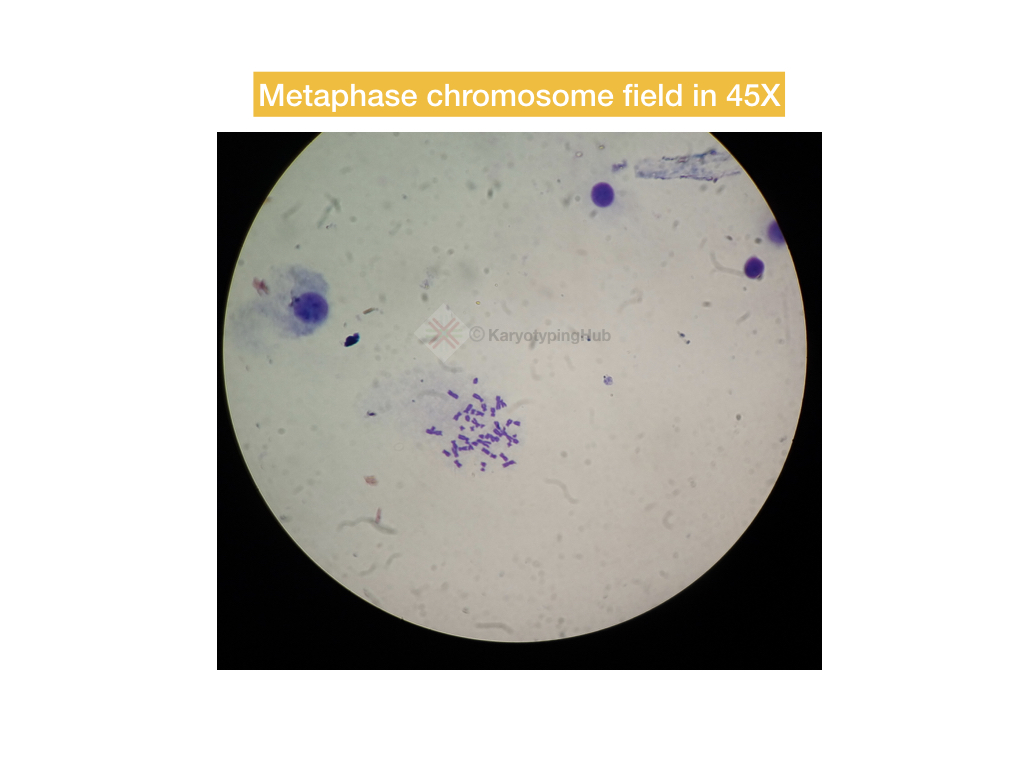 In order to encounter various anomalies and to study chromosomes, we need to do banding. Various banding techniques are used for various indications.
GTG banding, Q-banding, NOR-banding, C-banding, T-banding are some commonly used banding techniques in cytogenetic labs.
Microscopy:
First, the slide is observed under the 10X microscope lens to choose the best and well-separated filed. Then it is observed in the 45X and 100X oil-immersion lenses.
50 to 100 well-separated metaphase chromosome fields are observed to validate the results. After that, a karyogram or karyotype is prepared.
Chromosomes are arranged chronologically to detect further indications.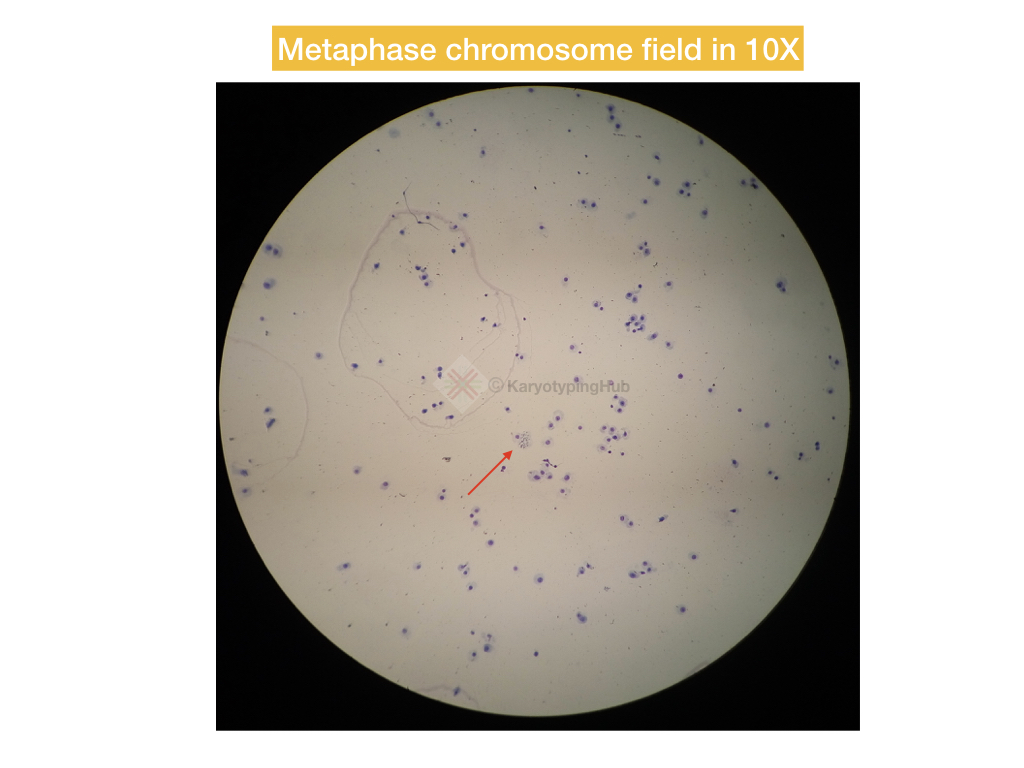 Protocol:
The protocol for PBLC (Peripheral Blood Leukocyte Culture) is explained in the article here: Karyotyping protocol from Blood.
We have enlisted chemicals, instruments, reagents, and other requirements for the blood culture in this article. However, this article is only for karyotyping from the blood. To culture other samples like amniotic fluid, chorionic villi, solid tumor, and tissue, we have developed protocol separately.
You can download our ebook for all protocols, staining, and banding techniques.
Staining and Banding techniques:
Giemsa staining and GTG banding are techniques commonly used in karyotyping. The process of Giemsa staining is explained here.
On the pre-chilled slide, add 2 to 3 drops of cell suspension from 2 feet height. Heat fixes the slide. Stain the slide in the Giemsa solution for 5 to 10 minutes.
Air-dry the slide and observe under the microscope.
Banding techniques:
GTG-banding: One of the most commonly used banding techniques in cytogenetics is the Giemsa-trypsin-Giemsa banding method.
The protein portion of a chromosome is digested by the trypsin enzyme, the Giemsa gives light and dark blue color to the compactly and loosely packed chromosome regions, respectively.
Overall, distinct and separable light and dark blue regions are observed on chromosomes.
C-banding: The C-banding is also known as centromeric banding in which only the centromere of chromosomes is stained. The present banding technique is a specialized modification of the G-banding which only stains the centromere region of the chromosomes.
However, the c-banding method is not so often utilized in cytogenetics and diagnostic purposes.
R-banding: The R-banding or reverse- banding technique is a reverse of G-banding. Here, the slide is first treated in a phosphate buffer followed by the G-banding to produce an inverse banding pattern.
Q- banding: Quinacrine or Q-banding banding is also similar to the G-banding but here instead of the Giemsa, the fluorescent dye quinacrine is used. Thus to analyze the results, we need a fluorescent microscope.
In the present banding technique, once the quinacrine binds to the AT-rich regions, it emits fluorescence which is visible under the fluoro-microscope.
Advantages:
The cytogenetic techniques, especially, the karyotyping method is utilized to observe chromosomes. In a PCR, we can't amplify the entire genome or whole chromosome DNA.
To study chromosomal aberration we have to perform karyotyping, however, nowadays FISH, spectral karyotyping, and microarray like techniques are available.
The present method is powerful enough to identify numerical and structural chromosomal abnormalities.
It is a bit accurate and thus used in prenatal diagnosis and screening of chromosomal abnormalities.
Disadvantages:
The disadvantages of karyotyping are more than advantages. It is a time-consuming technique.
High-end sophisticated instrumentation is a need.
Strict aseptic conditions are required throughout the protocol.
The chance of contamination is very high.
The chance of reaction failure is also very high.
A high level of expertise is needed to proceed and analyze the results.
Also, an expert's touch is required to interpret the results.
Applications:
We have covered an in-depth article on applications of the present method. You can read it here: What is karyotyping used for?
Briefly, some of the applications are,
To study chromosome number and structure.
To identify chromosomal anomalies
To study centromere location
To study the telomeric regions
To identify the relative size of chromosomes
To differentiate the chromosomes of different species.
A karyotype…
Now after completing our karyotyping process, we have to prepare a karyotype or a karyogram.
A karyotype is a picture of chromosomes or we can say, arranging chromosomes in chronological order is known as a karyotype. Karyotype preparation is totally a different process than any other cytogenetic methods.
We need a high level of expertise and experience to make it. Don't worry in the next article, we will understand how to prepare a karyogram or karyotype.
We will explain to you the entire process of how you can do it yourself.
Conclusion:
The present method is tedious, time-consuming, and laborious but to be a good scientist we have to learn basics. Still, for prenatal genetic diagnosis, the utility of the karyotyping is unmatched.
Doing karyotyping test's your patience and expertise because the chance of contamination and culture failure are very common.
You need to have a very good hand in it. Your skills must be sharpened to success every time in karyotyping. And that is our aim, to provide you with all the information and knowledge to perform karyotyping.
Sources:
Howe B, Umrigar A, Tsien F. Chromosome preparation from cultured cells. J Vis Exp. 2014;(83):e50203.
Sinclair A. Genetics 101: cytogenetics and FISH. CMAJ. 2002;167(4):373‐374.