Edwards syndrome is a type of chromosomal or karyotype abnormality that occurs due to the imbalance of chromosome number.
During 1960, John Hilton Edwards first described the signs and symptoms of Edwards syndrome. The present genetic or chromosomal aberration is often known as T18 or trisomy 18. The mechanism known as trisomy is responsible for this abnormality. 
In the present article we will discuss some information of Edwards syndrome and explain to you the Edwards syndrome karyotype and how it looks. 
Related article: How to Prepare a Karyotype?
What an Edwards Syndrome is!
Edwards syndrome is a genetic condition or more precisely we can say a type of chromosomal abnormality that occurs due to the event known as non-disjunction.
The frequency of the present genetic condition is 1 in 5000 live births. It is a type of congenital condition that occurs by birth. Notably, major cases of Edwards syndrome do not survive more.
It affects many bodily parts and organs. Heart defect is commonly observed. Besides, small heads, jaws and feet, clenched fits, overlapping fingers and other developmental problems are also present in a patient.
Mental and intellectual disabilities are also observed. Slow growth rate and low birth weight are commonly found in a baby with the present genetic condition. 
Read Further: Karyotyping Examples.
A karyotype of Edward syndrome:
As we discussed, the present genetic condition is a type of polyploid known as trisomy. In a typical trisomy condition one extra chromosome with a pair is present.
The Edwards syndrome is a trisomy of 18 thus instead of 2 three 18 numbers of chromosomes are present in a cell. In a typical condition, 47 chromosomes are present in a cell.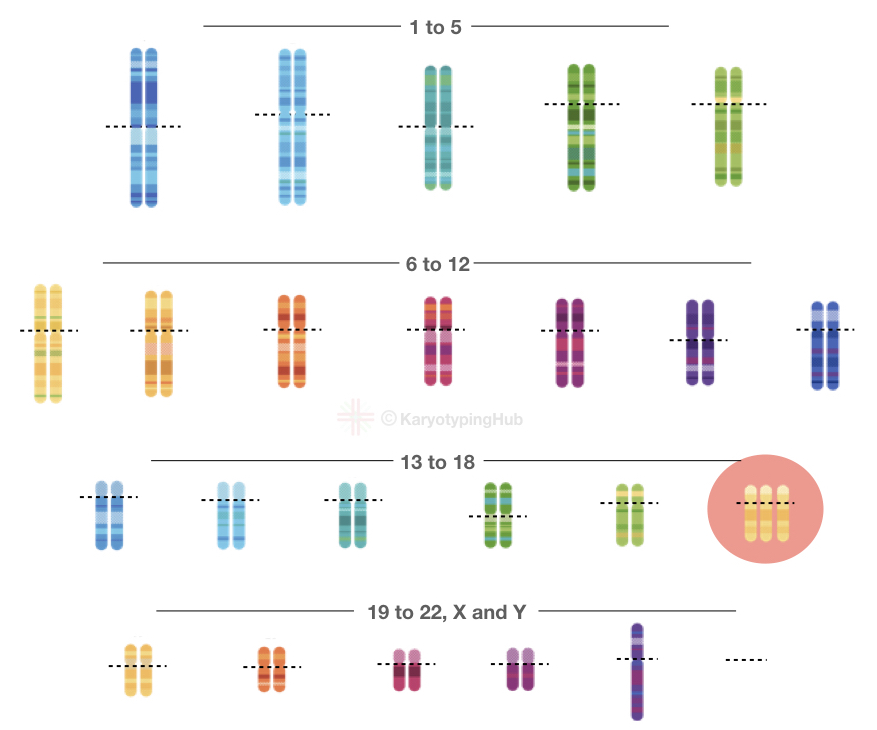 What does an Edwards syndrome karyotype show?
Now see the real karyotype image of Edward syndrome (trisomy 18) in the image below. Three different 18 number chromosomes are present.
Chromosome 18 is a type of small metacentric chromosome. In the present karyotype no any translocation is observed. However, translocation 18 does present in some rare cases of Edward syndrome.
All the other chromosomes are normal and present in a pair. Also mosaic condition is not reported. The present sample is of a female.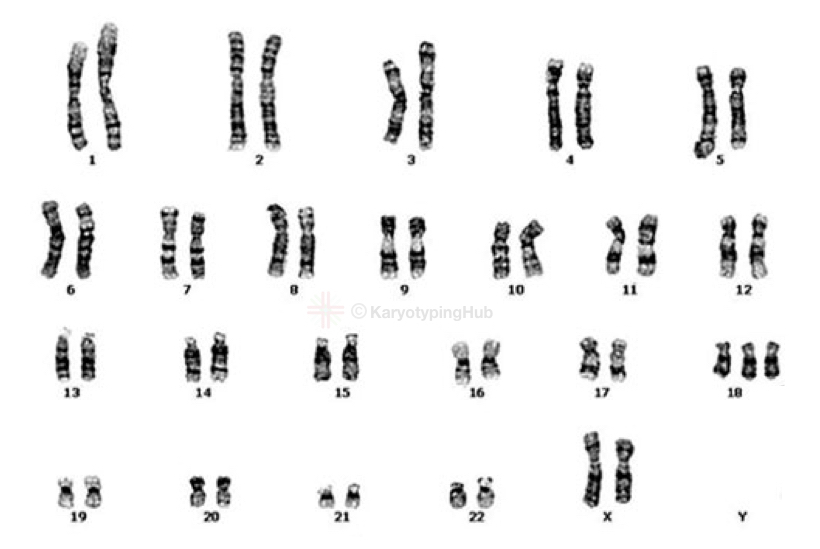 Cause of Edwards syndrome:
Besides trisomy 18, in some rare cases, mosaic trisomy 18 and translocation of chromosome 18 observed.
In the mosaic condition, not all the cells have trisomy 18, some cells have a pair and some have 3. Due to this reason, the signs and symptoms of mosaic condition are also less severe.
Translocation 18 is observed in very rare cases, in this condition, some portion of chromosome 18 translocates to the other one.
The event known as non-disjunction is a reason for Edward syndrome. The non-disjunction is a totally random process in which the chromosomes are not segregated properly. 
Further Read:
Conclusion:
A normal karyotyping set up is more than enough to identify the trisomies. However FISH is also recommended in some cases of translocation.
Care must be taken while performing the karyotyping of amniotic fluid or chorionic villi because if we fail we can't get a sample back.